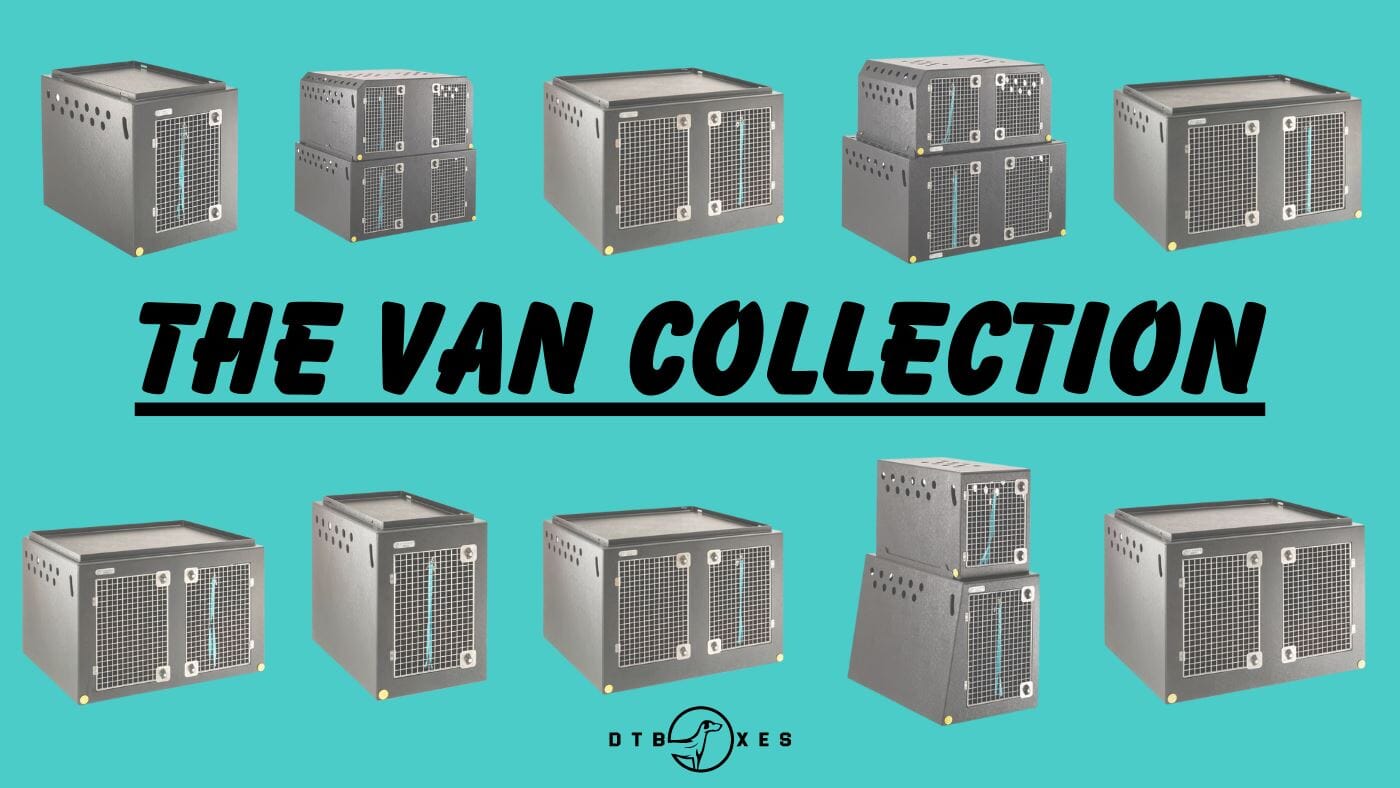 The Van Collection
When it comes to finding the perfect dog crate for your van, look no further than DT Boxes. We offer a range of options to suit your specific needs, including double boxes, single boxes, double stack boxes, and side door boxes. Whether you have a small or large van, we have dog boxes that are designed to fit seamlessly.
Single Box - The DT500 and DT600
Searching for a crate suitable for a single large dog or a two small dogs? Discover our range of single boxes, tailored precisely for pet owners in need of a solution for one dog or two smaller ones. With two size variations to choose from, the DT500 spanning 500mm in width and the DT600 offering a more spacious 600mm width, you have the flexibility to select the optimal match for both your van's dimensions and your beloved dog. These are also a great option for your van side doors, allowing you to handle your dog with ease. To enhance this option, we strongly advise considering our accompanying straps. These accessories play a crucial role in not only fastening your DT Box securely but also ensuring your canine companion's safety throughout their journey.
Dog Breeds that fit the DT500 and DT600: 1 Rottweiler or 1 German Shepherd or 2 springer spaniels.
Double Boxes - The DT1000 series and DT1100 series
For those with multiple dogs we have a range of options. For a double crate we have the DT1000, DT1000L, DT1000XL, DT1100 and DT1100L.  You can see all the different sizes in the photo above. Some smaller vans will not fit the DT1100 series. If you have a smaller van, such as the Citroen Nemo, then please see our blog, Van Guide: Which box fits my Van?
At DT Boxes, we understand that every dog owner's needs are unique, and that's why we offer a range of five different double boxes designed to perfectly fit your van and cater to your specific requirements. Whether you're transporting large or small breeds, we've got you covered. We recognise that different breeds have distinct needs, and that's why our double boxes are carefully designed to accommodate the varying sizes and temperaments of dogs. Our commitment to safety, comfort, and convenience is reflected in the thoughtful construction of each box, providing a secure and enjoyable travel experience for both you and your pets. At DT Boxes, we're dedicated to ensuring that your journey with your four-legged friends is as enjoyable and stress-free as possible. 
The DT1000, DT1000L, DT1000XL, DT1100 and DT1100L all fit the Citreon Berlingo Van (All Years), Peugeot Partner (All Years) and the Ford Connect.
Double Stack Boxes - The VM1 and the VS1
The double stack configuration caters ideally to dog walkers or individuals caring for multiple dogs. You can find an informative blog post about the double stack setup right here. Within our product lineup, we offer two distinct double stack options: the VM1 and the VS1. As evident from the image depicted above, the VM1 accommodates larger vans, while the VS1 is tailored for more compact ones. Our range of double stacks provides versatile solutions to meet your unique needs. 
*Please note our double stacks do not fit in the Citroën Berlingo Multispace van unless the rear seats are removed. If the seats our removed the VS1 will fit.
Side door Boxes - The VS550
At DT Boxes, we take innovation and convenience to a whole new level with our specialised side door dog crates, designed to enhance your pet travel experience. Introducing the VS550 model - a game-changer for those who value easy access and efficient use of space. With this unique design, two crates are expertly stacked on top of each other, fitting seamlessly within the side door of your van. This ingenious arrangement ensures that you can load and unload your dogs with utmost ease, directly from the side entrance. Whether you're embarking on a road trip or just a short drive to the park, the VS550 offers the perfect solution for pet owners seeking convenience without compromising on safety. At DT Boxes, we're committed to redefining pet travel, and the VS550 is a testament to our dedication to your pet's comfort and your peace of mind.
*Please note the VS550 does not fit the Ford Courier side door however, our DT1000 and DT500 does fit at the side.
The Ford Courier
The Ford Courier is a compact van that does not fit all of our boxes. We have discovered the DT1000, DT1000L and DT1000XL fits the Ford Courier. If you want a 3 compartment set up you can have the DT1000 and DT500 at the side entrance. It's important to note that the DT500 can only be paired with our DT1000 for the side door setup to function properly. However, please be aware that the DT1000L and DT1000XL are not suitable for installation at the side door. The DT1100, DT1100L and the VS550 does not fit in the Ford Courier.
Not sure which box fits your vehicle? Check out our 'Which Box Fits in My Van?' Blog here.