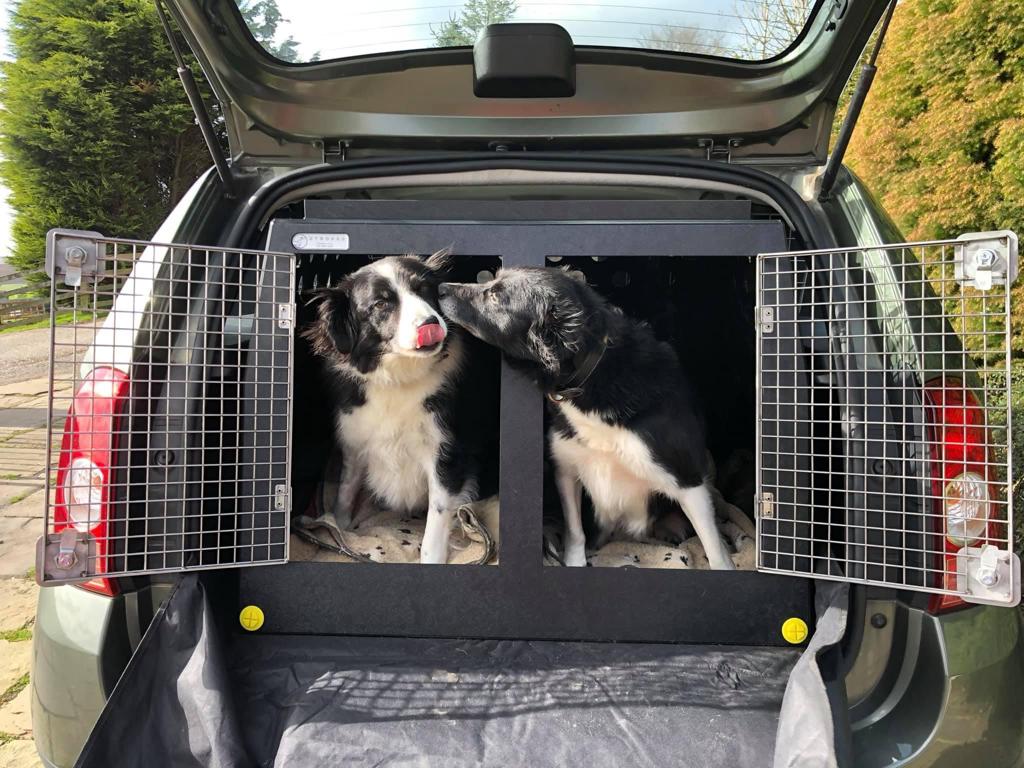 7 Reasons You Should Use a Dog Car Crate
We are a nation of dog lovers and love to take our dogs with us everywhere we go. There are many reasons we travel with our dogs but here are the top 7 reasons we think you should use a dog car crate whilst travelling with your dogs.
Safety First. It's is really important whilst driving to be able to concentrate fully on the road and ensuring you get safely from A-B. When your dog is travelling with you, distractions to you and your driving are minimised when your dog is secured in their own dog cage. Whilst secured in their own box you can be assured that they can not run around the car, jump over on to your lap or knock something over causing you to be distracted. Your risk of being startled by your dogs antics is also much less as they are less likely to suddenly bark at something they see passing by or to ponce across the car because they see something they find interesting out the window. The dog transport box is a safe way for your dog to travel with you. The dog is happy once contained inside their dog crate leaving you to concentrate fully on your driving.

Legal Obligations. In the UK it has been illegal to travel with an unrestrained pet in your car since 2017. Rule 57 of the Highway Code states, "When in a vehicle make sure dogs or other animals are suitably restrained so they cannot distract you while you are driving or injure you, or themselves, if you stop quickly. A seat belt harness, pet carrier, dog cage or dog guard are ways of restraining animals in cars." We all have a legal obligation to ensure our dogs are suitable restrained when travelling with us and the dog transport box is an excellent choice to achieve this.

Cleanliness and hygiene. The best thing about using a DT Box (in our opinion) is cleanliness and hygiene. When you use a dog transport box to contain your dog it protects the interiors of your vehicle. Gone are the days of worrying what the weather is like before taking your dog out for a walk on wet mucky days, running around looking for a blanket to cover your back seats before you go only to find that they still get their mucky paws all over the car anyway and you still have to scrub the interiors. We've all been there. You no longer have to worry whether you should or shouldn't nip into the shop on the way home from your walk for fear the car will will be destroyed when you leave the dog loose in the car unattended. The dog transport cage stops all this as you can be assured that the dog will remain secured in their own box and all the mud and grime stays inside the box. All the muck and moisture is contained inside the box so you only have to clean the box and not your whole car. What's more, the box itself is so easy to clean. The hard plastic is chemical resistant so any dog friendly cleaners can be used. Simply spray and wipe with a cloth. Our boxes are designed with wash out plugs also for easy cleaning. Remove the box from your boot and you can hose it down, with the washout plugs removed the box drains out all moisture easily. Simple and stress free.  

No lingering dog smell. All our boxes are sealed units with a leak proof bottom which means all moistures from your dog are contained within the box and do not leak down into your cars carpets or interiors. This means that the smells from your dogs don't seep into your cars interiors so when the box is removed so are all the odours from your dogs. The odours are also easily removed from the box as they are so easy to clean. Our customers regularly report this as being one of their favourite things about our boxes. 

Calms dogs. Dogs are a denning animal and therefore being in their own den feels natural to them. They like darker spaces and this makes them feel safer and calmer. When your dog becomes familiar with their box they actually prefer to travel in their own dark den and the DT Box provides this environment for them. They are much calmer travelling as a result as they feel at home in their environment. 

Separate compartments. Our double boxes come with a central divider. This is great because it means that you can keep your dogs in not one space but two separate compartments as they travel. This is especially great if you are travelling with two dogs that don't know each other or dogs that like their own space. It means that your dogs can enjoy their own compartment while they travel which is very important for some dogs. Our dog trainers and handlers also often report that the best benefit of this is that it is easy to release one dog at time, leash them up and then release the second dog when they are ready. It makes it much easier to handle multiple dogs at a time.

Ventilation and lockable doors. Ventilation is key when it comes to our boxes. They are designed with ventilation holes and mesh stainless steel doors which ensures that the box gets plenty of ventilation. A major benefit to this though is the lockable doors. Dog handlers love that you can leave one dog in the box locked with the boot open while you take another dog off to train and are safe in the knowledge that their remaining dog is safe and can get plenty of fresh air. What's more the dog can't accidentally escape or be let out by someone who is admiring your dog. Overheating is a major concern and consideration for dog owners and handlers as it is dangerous to leave your dog in your vehicle without adequate ventilation. The lockable doors on the box means that you can secure your dog in the box with your boot open and know that your dog is safe and still getting plenty of fresh air.
There are many more benefits to our dog transport boxes but these are the top 7 reasons we think you should use a dog car crate. Whatever your reasons for travelling with your dog we always recommend a dog car crate.