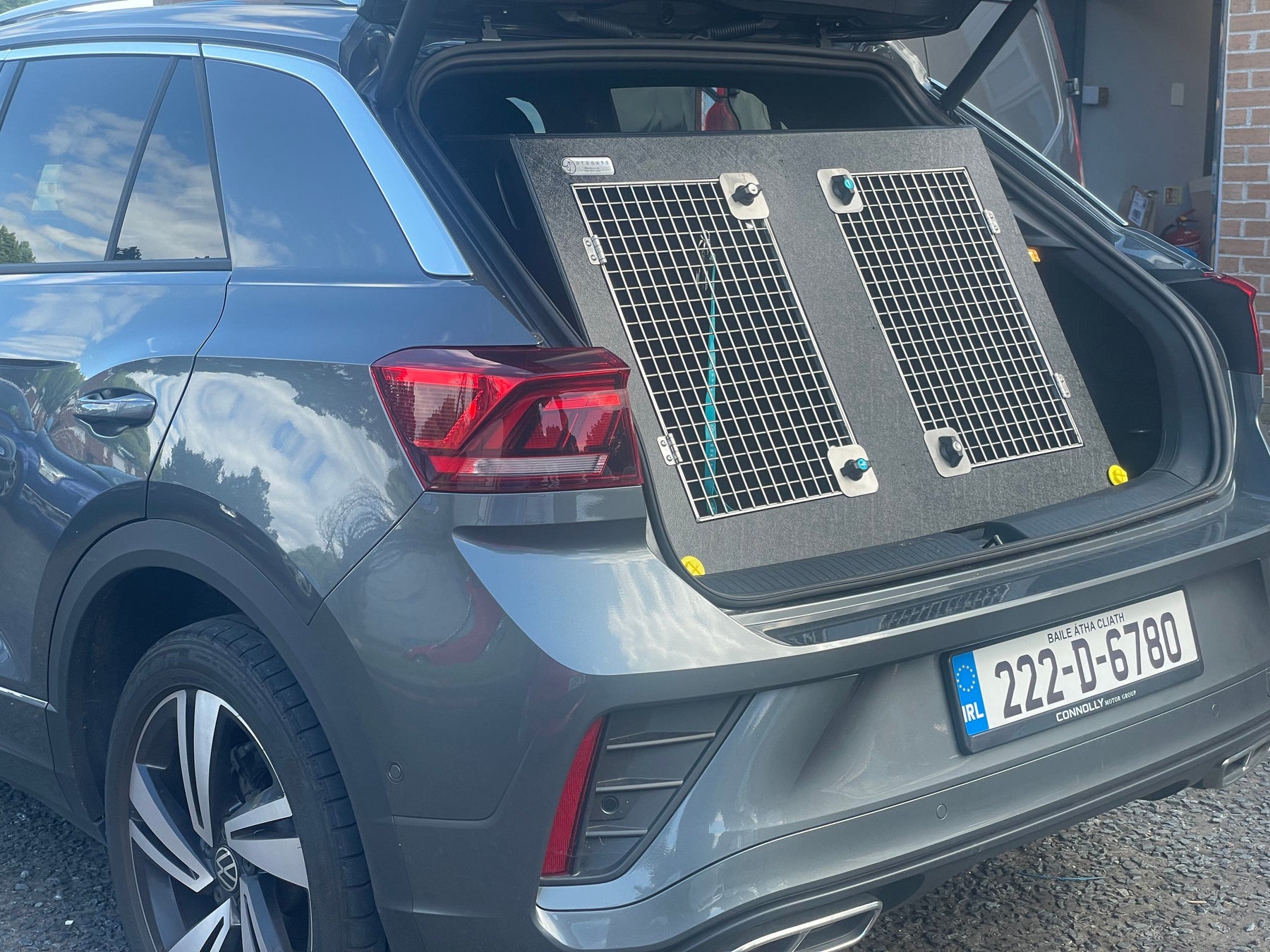 The VW T-Roc Dog Crate is Here!!!
Introducing our latest innovation: the all-new Dog Crate designed exclusively for the Volkswagen T-Roc. We've carefully crafted this crate to perfectly fit within your T-Roc without requiring you to fold down the back seats, ensuring your passengers' comfort while accommodating your furry friends.
Tailored to fit the boot floor or false floor in its raised position, the crate's dimensions are 940mm wide, 700mm deep, and 580mm high. It's specifically built to house two Springer Spaniels or two Cocker Spaniels comfortably. And, by removing the divider, you might even be able to accommodate larger dog like a Labrador, though we recommend using it for smaller breeds primarily.
Safety and security are paramount, and that's why our Dog Crate has undergone independent crash tests, offering you peace of mind during every journey. The lightweight yet durable anti-shatter frame ensures long-lasting performance, while the lockable stainless steel door guarantees secure transportation.
For your convenience, the crate features a removable center divider, allowing you to customize the space according to your pet's needs. Additionally, the two drainage plugs and sealed leak-proof bottom protect your car's carpet from any accidental spills or messes, ensuring easy cleaning and maintenance.
Your dog's comfort is of utmost importance to us. That's why we've incorporated side vent holes to promote proper airflow and keep your furry companion cool and content during trips. The ergonomically designed easy lift handles make transportation hassle-free, allowing you to carry the crate effortlessly.
With our new Dog Crate, we've prioritised functionality, safety, and comfort, making it the perfect accessory for your Volkswagen T-Roc. Whether you're heading out on a short adventure or embarking on a longer journey, our Dog Crate guarantees a secure and enjoyable ride for both you and your canine companions. Drive with confidence and peace of mind, knowing that your pets are well taken care of in their specially designed space.