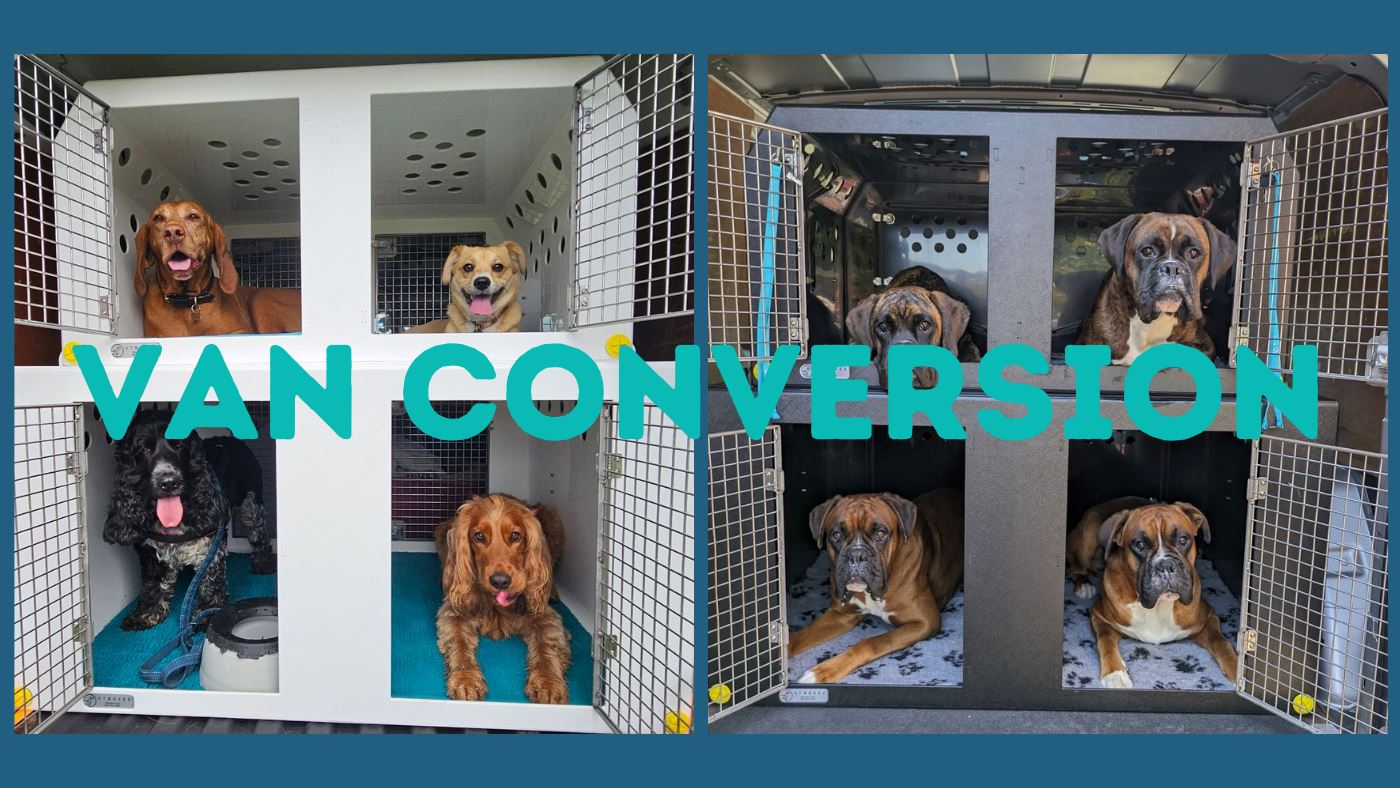 Dog Walking Van Conversion, the Perfect Solution!
Are you a Dog Walker or Trainer looking for a quick and easy way to transport your dogs?
Not sure how to convert your van or even were to start? Building out your own vehicle with all the features necessary for safe, comfortable transportation of dogs is easier and more affordable than you might think - plus it allows you to enjoy the benefit of having a stylish mobile office! With plenty of options available, let's explore how transforming an ordinary van into a doggo-friendly haven has the potential to revolutionise your business!

10 Benefits of DT Boxes Van Range
Easily installable
Ratchet Strap Points
Crash Tested
Sealed Units
Easy to Clean
Washout Drainage Holes
Great Ventilation
Rear Escape Doors
Side door options 
Removable setup
There are numerous advantages to double stacking crates rather than converting it into a cage.  See below for further information on the benefits to double stacking.
1. Easily installable
Double stacking is a breeze to install! Weighing in at only around 20-25kg each, the boxes are light and easy to transport. All you have to do is place them into your van and secure with ratchet straps - no time-consuming setup required! You can be ready for business within just one day of receiving this invaluable transportation tool, ensuring that your dog walking venture gets off on the right foot. This option is a lot quicker than cage conversions and even better, it's so simple you can simply DIY!
2. Ratchet Strap Points
Securing your crates with the ratchet strap points is simple and fast. All vans are equipped with fixing points, making it practical for any van environment. The straps can be used quickly, so boxes are firmly secured in minutes and remain stable during travel.
3. Crash Tested
To ensure your furry friends' safety, our boxes are carefully crash tested. When you own a dog walking business and have other people's dogs under your care, nothing should be left to chance. Make sure that safety is always the top priority. This solution is more reliable than a cage conversion and offers additional protection in case of car accidents. Better to be safe than sorry!
4. Sealed Unit
Keep all the mess contained with these double-stack boxes that are securely sealed. Whether your dog has an accident or is muddy, DT Boxes have got you covered! Traveling with dogs isn't always a walk in the park, but this will make it much easier for both of you! No more worrying about mud and dirt ruining your vehicle's interior - no matter how mucky they get, everything stays clean and secure inside their special box.
5. Easy to Clean 
Our DT Boxes are incredibly easy to clean – all you need is a hose! With specially designed plug holes, the water drains in seconds. Plus, since they can be taken out of the vehicle, unlike cage conversions, cleaning them is even simpler. The durable material allows for quick and convenient wipe-downs on the go - taking care of messes instantly!
6. Wash out Drainage Holes
Our boxes are equipped with washout holes, so washing them is a breeze - just unplug and let the water drain out. On the other hand, cage conversions cannot do this as they remain in your vehicle; when you try to remove excess water, it seeps into your car's interior instead of draining away. By removing our box and taking out its plugs, we make it much easier for people to clean up their vehicle without any mess or fuss! Additionally, dealing with dogs on an everyday basis leaves behind dirt and odors that need regular cleaning; fortunately our boxes can be cleaned quickly whenever needed.
7. Great Ventilation
When designing our boxes, we always prioritize the safety and comfort of your furry friends. Our ventilation holes ensure that the temperature inside of the crate remains consistent to the vehicle - reducing any risk of dogs overheating during transportation. On those hot days when temperatures soar high, fear not! We also provide cooling fans to keep your dogs cool and safe on their journey.
8. Rear Escape Doors
We also can provide hatch doors to allow access inside the vehicle. Allowing more access to the dogs. In times of emergency, our hatch doors come in handy: if you can't get into the boot from an accident, these provide another route to rescue any dogs inside the car! This is also beneficial if you have two dogs which do not get along and therefore will not have to have any contact with each other. 
9. Side Door Option
We also offer side door options so that your access points aren't limited to just the backdoors - allowing more space and security for your dogs. You can have how many boxes your fan will fit. 
10. Removable Set-Up
Our double stack boxes offer convenience that cannot be found with cage conversions - they can easily and quickly be removed for cleaning and other purposes. Plus, if you're planning on upgrading your van in the future, you don't have to worry about selling off your cages; just take out the double stacks! With a one-time purchase of these sleek storage solutions, you'll enjoy them for years regardless of vehicle changes.
 In conclusion, with the double stack set up, you will be able to save both time and money on your dog walking business. Not only is it easy and fast to set up in the van, but it's also very convenient for cleaning up after the dogs have been out. It is safer for the dogs and a lot easier for you! No need to stress about a van conversion we have it covered. Why not contact us today and let us help!
To look view our double stack options click here.