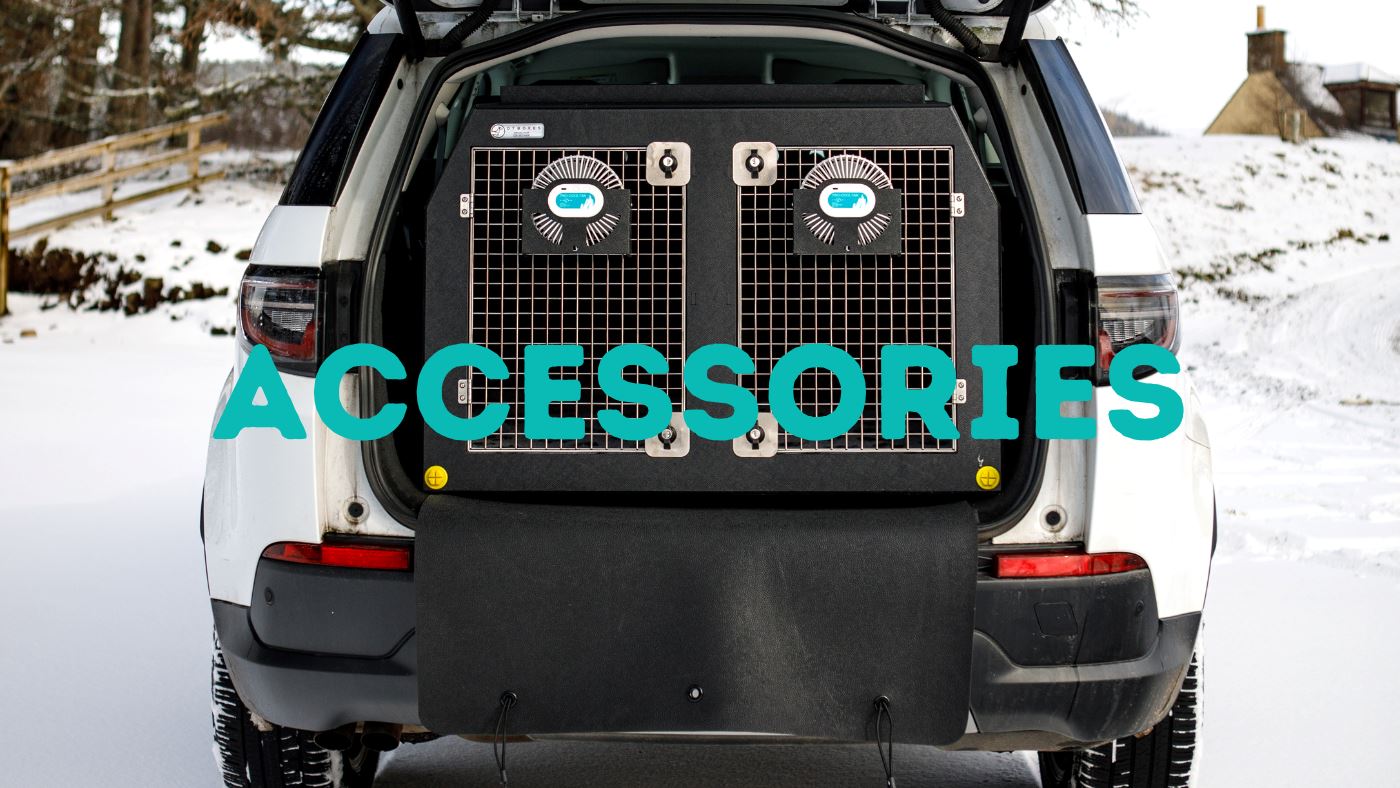 The Accessories that Enhance your DT Box for Both You and Your Dog
We love our boxes, we really do, but what we don't say as much is how much we also love our accessories. We only sell a limited number of accessories and the reason is that we only sell the ones that we really believe are necessary with our boxes and will enhance our DT Boxes for both you and your dog. A lot people don't give as much thought to the accessories as they maybe should so we would like to share with you the accessories that we really believe you should purchase with your box because they truly do enhance out DT Boxes.
The Bumper Protector is perfect for protecting the bumper and paintwork of your vehicle. It is made from non-slip rubber which gives your dogs great traction when jumping in and out of the box in your boot. It gives them great grip and stops them slipping even when they have wet mucky paws. It protects the paintwork from getting scratched by your dogs nails and also protects against moisture and muck that would otherwise end up on your cars interiors and carpets.
The images above are of the a beautiful German Shepard 2 months apart in his Skoda Karoq DT Box. The first image is when the customer first received the box and bumper protector and the second image is two months on. The Bumper protector does an excellent job at protecting your interiors from the normal muck that dogs gather when out for their walks. The Bumper Covers are removable and wipe-able making them a hygienic solution also. They protect your interiors from the moisture that drips off your dogs as they get in and out and therefore help prevent a build up of smells in the carpet of your boot. 
The Bumper Protectors are easy to use and easy to install. The bumper protect sits underneath the box when the box is in place and hangs down over your bumper when you open your boot and want to let your dogs out of the crate. When the dogs are back inside box and the doors are closed, the bumper cover hooks up onto the mesh stainless steel doors so its always in place ready to go when you need it. 
The video below to shows John fitting the bumper cover in a van and is a guide to show you how easy it is for you to fit and use even with one of our largest boxes. You can also see how easily the bumper cover hooks up into the stainless steel doors when closed allowing you to close the boot. It remains in place ready for use when needed again, simply unhook the bumper cover and open the doors and its ready to go hassle free.
Bumper covers are available in three sizes to suit your box and vehicle. If you order the bumper cover at the same time as your box we will automatically match the size of the mat to the box being bought and your vehicle. Otherwise when you are purchasing it you will be asked to provide your vehicle model and we will match the size. We recommend that you do get a mat that is the full width of your boot even if you purchase a half box. This ensures your full bumper is protected especially if your dog jumps in or out at an angle. 
We highly recommend you get a bumper protector when purchasing a box. It makes using the box much easier for your dog as it provides grip for their paws and it also protects the interiors and paintwork of your vehicle.
Our non-slip vet bedding is warm, comfortable and safe for your pet and is ideally suited for our range of boxes .
The non-slip rubber backing prevents the vet bed from sliding around the box when driving around corners making it safe for your dog whilst being transported. The inside  base of the box is made from hard plastic so it is ideal to put a non slip mat in it for your dog. The top surface of the mat is soft and furry which adds an element of comfort for your dog also. 
Our Vet Bedding is long lasting and versatile and can be machine washed time and time again up to 60 degrees, providing a clean and hygienic environment for your pet to sleep or rest on.
We recommend you purchase the Vet Bedding when purchasing your box. We cut one mat per compartment so for a half box one mat is required and for a double compartment two are necessary. The bedding is machine washable which makes it hygienic and the rubber non slip backing adds an extra element of safety for your dog travelling with you. 
Our quick, easy to use tie down strap are used to hold smaller DT Boxes in place in bigger boots or for securing you Pick Up models in you Pick Up Truck. They hook into any of the vent holes on the sides of the box and are a great addition and simple solution when additional securing is required. They hold the box securely in place when the straps are pulled tight and prevent the box moving around the truck bed or boot.
They are frequently used with our Pick-Up Range to secure the box in place as you can see below with our DT-1000L with pick-up kit and DT-500 with pick-up kit. They come in pairs and can be attached at an angle either in the vent holes or with the rings provided on some pickup models like in the picture below.
They are perfectly designed for use with our boxes and give you great peace of mind that your box is safely secured in your vehicle when on the road.
We recommend that you buy the Quick Tie Down Straps with your box if you are purchasing a Van or Pickup model DT Box or a half box option that you feel you want to additionally securing in your boot. The pull straps are easy to apply as Mark demonstrates in the video below.
One of our most sought-after accessories is the Pro-Cool rechargeable fan, which effectively keeps your dog cool during extended journeys.
The Pro-Cool rechargeable fan is designed to provide comfort and cooling for your dog during car journeys. Whether it's a scorching summer day or right after a refreshing walk, dogs appreciate the relief of a gentle breeze. Our fans easily attach to any mesh cage door and come with a bungee cord for added stability and security.
The fan includes three different speed settings to suit various weather conditions. Additionally, it features a built-in light that enables you to see your dog during dark nights. This essential accessory is a must-have for owners of dog crates, as it eliminates concerns about your dog overheating. Since the fans are rechargeable, there's no need to constantly replace batteries. You can conveniently charge it before your journey or use our 3-meter cable and car adapter to charge it while you drive. With a full charge, the battery can last up to 18 hours, ensuring your dog remains cool and comfortable throughout even the longest journeys.
Check out this video of Mark showing how our Pro-Cool Fan works!
All of our accessories can be added to your order when purchasing your DT Box  and delivered with your box as one parcel. If you have already ordered your DT Box and forgot to add them to your basket you can contact us to add them if your order hasn't yet been dispatched. There is also the option to purchase them on their own and a separate delivery charge will apply. Whatever you decide on, we hope you will enjoy their benefits and come to love our accessories as much as we do because we really do believe they enhance our boxes for both you and your dogs.