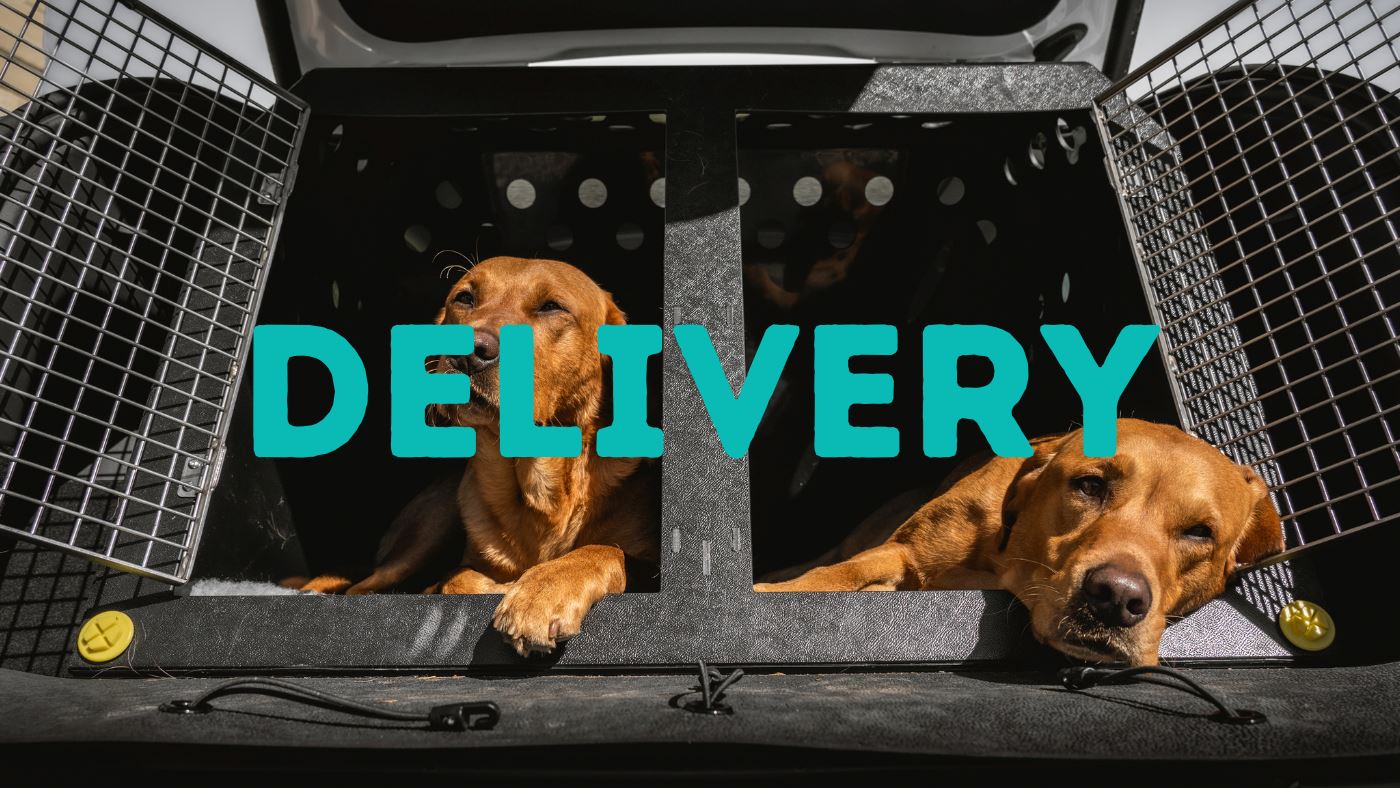 I have ordered my DT Box. What happens Next?
Here at DT boxes we understand that purchasing a box is a big decision for most of you. You spend much time deliberating over which box is right for you and what accessories you should add to your basket. You ask yourself many questions such as do I need a bumper protector, veterinary bedding or even the tie down straps or should I add the All Weather Kit. After much careful consideration of all of this you make your decisions and you place your order either online or over the phone but many of you wonder what happens next. The anticipation and excitement of receiving your chosen box can be great but what is the process by which your box will get to you and what information will you receive along the way? Let us give you some information to fill in these blanks.
Our Dt 1000 All Weather Kit being enjoyed by three Cockers, one Springer and a Labrador.
Order confirmation and Order Number
After you place your order you will receive a confirmation email with the details of your order and an order number. At the same time our system prints out a docket complete with your order number and details. We keep a large stock of most boxes which allows us to fulfill all orders quickly.  Your order also triggers the system to create another box the same as your order to ensure we remain well stocked.  All our boxes are made in our workshop from the raw materials that we always keep in stock.
Dispatch- Usually 1-2 days but always check our website for updates
Usually we can dispatch your box 1-2 days after order. Once dispatched you will have your box 2-3 days later. Scotland and The Highlands may take 3-4 days sometimes for delivery. Sometimes after holiday periods there may be a back log of orders so it is important to check the website for updates at these times. Our dispatch times may be longer at  such times but you will always find that information on the top of the home page of our website in these instances.
Our processes are lean and the guys in the workshop do a great job completing orders efficiently whilst also ensuring they deliver a quality product that you and your dogs will love. 
How We Make Your Box
Danny cuts out your box from our large sheets of black or white plastic depending on your order and passes it down the production line to Johnny. Stevie makes our stainless steel doors and adds the lockable latches. When the doors are complete he also passes them to Johnny.
Our CNC Machine (above) cutting out a black DT Box.
Johnny assembles the box using a variety of processes and once complete passes the box down the line for a quality check and packaging.
Stevie performs the quality check and packages your boxes for delivery. Stevie also cuts out the bumper cover and vet bedding and adds tie down straps to your box if you have ordered them before it is packaged for delivery. He ensures every detail is as per your order.
How We Package Your Box
Our half boxes are packaged in a cardboard box for delivery. Our Double compartment boxes are placed on a pallet and shrink wrapped. A red cone is placed on top of the double compartment boxes to prevent the courier from attempting to stack the pallets. This cone should not be damaged upon arrival to you.
Dispatch Email
Your box is now ready for delivery. Stevie takes your order docket and logs it in the delivery system. You will receive a dispatch email at this stage and the courier will come to collect your box that same day. Your box is now on its way to you. 
Delivery (UK & Ireland- 2-3 Days after Dispatch, Scotland & The Highlands 3-4 Days after Dispatch)
Usually once dispatched you will have your box 2-3 days later. Scotland and The Highlands may take 3-4 days sometimes for delivery. You don't generally receive any further communication until your box arrives but the courier may call you on the day if they need to. 
How You Receive Your Box
We use couriers that we trust and always try to find the most reliable means of getting your box to you. If your box does not arrive within this time frame you can contact us and we can chase up your order with the courier using your order number and name. When the box arrives you will need to sign for it so someone must be there to receive the delivery. If you receive a double box and the red cone on top is damaged, its still okay to accept the box and it is highly unlikely that there is any damage to the box but we request that you sign for it as damaged on the delivery docket. It is mostly for our own information. 
Occasional Extended Delivery Times
Delivery time from order is usually 5 days however there are some times in the year when this may be longer. During holiday periods, such as over Christmas, orders online can build up and therefore when we return there can be a backlog of orders. We always work very hard to clear any backlogs as quickly as possible whilst also ensuring you receive a quality product. Please keep an eye on our website for our holiday information and updated delivery times. 
At any stage you can contact us with any questions you may have and we will  respond to you as quickly as possible bearing in mind our working times. We are always happy to assist you in any way we can even after the delivery of your box so don't hesitate to contact us if you have any further queries. We love receiving your feedback and love to see pictures of your dogs happy in their box. We take great pride in producing every aspect of our own boxes so love to see and hear your feedback but equally if there are any issues after delivery we are also always here to help.
Some customer photos, two Collies, a Belgian Malinois and a Springer Spaniel all enjoying their boxes. Thank You for your Photos.