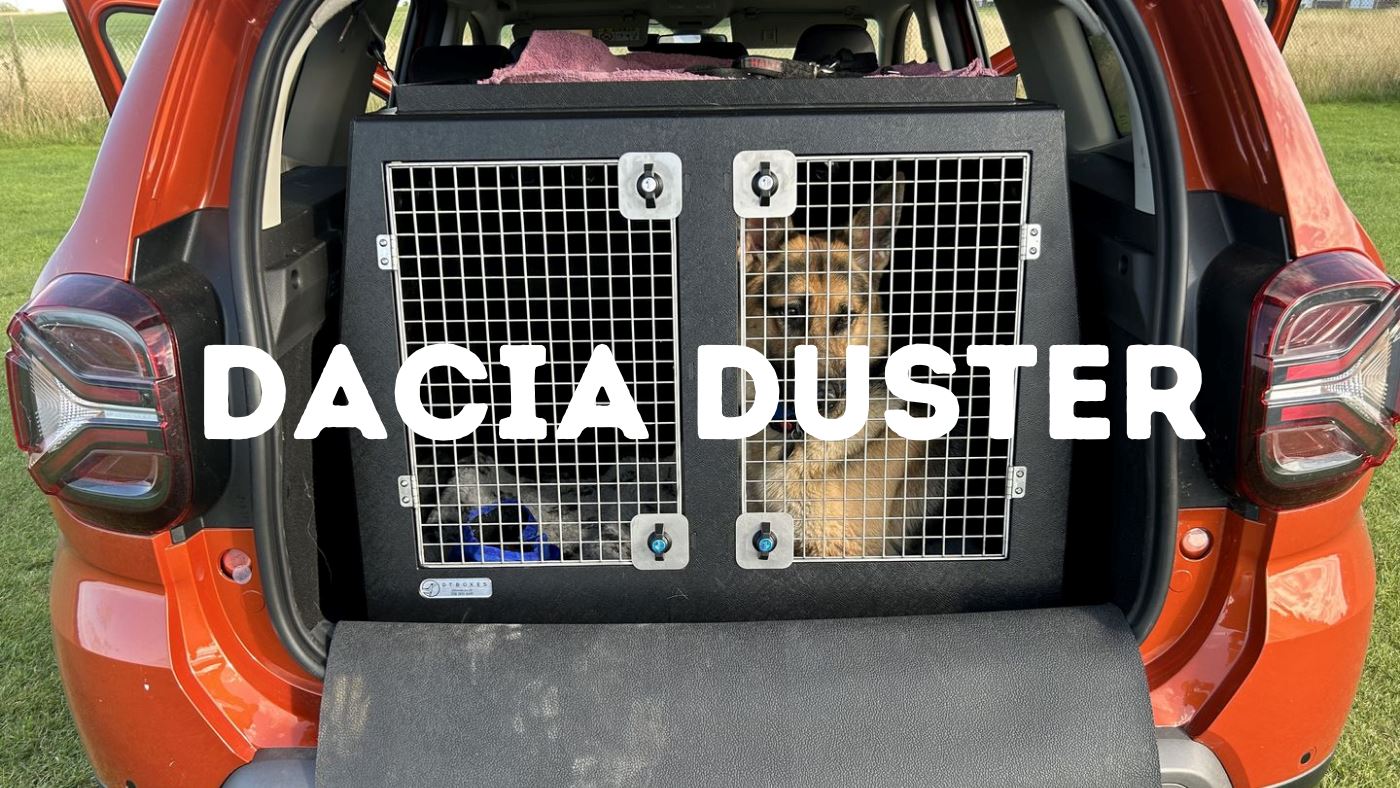 Made to Measure! - Dacia Duster
Made to Measure Dog Cage for the Dacia Duster
Winning several awards since it's UK market release in 2012, the Dacia Duster is a widely popular compact SUV praised for its great handling, attractive look and enviable value for money. Since that time, the Duster has been a common sight on UK and Irish roads, and it's an ideal vehicle for anyone who might want to head outside and take on some rough country roads, whether for work or in search of some breathtaking scenery. For us, of course, it's a great model for taking the dogs out for an amazing walk and it's for this reason we decided to make a custom box designed to fit the dimensions of the Duster's boot perfectly.
Coming in at 700mm high, 900mm wide and 820mm deep, the Dacia Duster box is designed specifically to fit the dimensions of your Duster's boot so that you don't have to worry about your dog box moving around in transit and upsetting your pets. It's made from durable lightweight moulded plastic which makes set-up and removing the box easy and simple. We have carefully ensured that your box will fit whatever model of Duster you have, so whether your Duster is first generation or third, four wheel drive or two wheel drive our Dacia Duter box is the perfect fit for your Duster. You'll be able to house your pets with ease in this custom fitted box. What is more, because the box is a popular product and pre-made to fit, we can offer same day dispatch on most orders. 
A Premium Quality Dog Crate packed with features
Our boxes come with a wide range of top quality features, designed to make every aspect of dog transport easy, safe and efficient for you. The stainless steel doors are strong and easily cleaned, as well as securely lockable to prevent them opening in transit, allowing you peace of mind when you close the doors. The boot on a Duster is sometimes sunk slightly, so we have allowed enough room to guarantee that your boxes doors will open no matter the specific model. The top storage tray gives you the perfect shelf to store any leads, toys or accessories so that they are always to hand when you need them.  
Each of our boxes fits two medium dogs (think about Labrador size). The centre divide is removable so the space can be opened, perfect if you own a larger breed or simply want to give your pet a bit more space. The box is leak proof also which means even after the muckiest of walks or swims, no moisture from your pets will escape into you car. The box has a sealed bottom that will keep any moisture in, so if you do have dirty dogs that have been out on a wet day you can get them home with no damage to your boot. Cleaning your box is also simple and easy. There is no need to wash your box by hand in your Duster. Simply remove the lightweight box, open the doors, remove the drainage plugs and hose down the inside and the water will run right out. The lightweight frame makes this process a breeze. 
Order Today
So if you own a Dacia Duster and would like to know more, why not check out the product page? And of course if you have any questions or concerns don't hesitate to get in touch - simply head over to our contact us page.