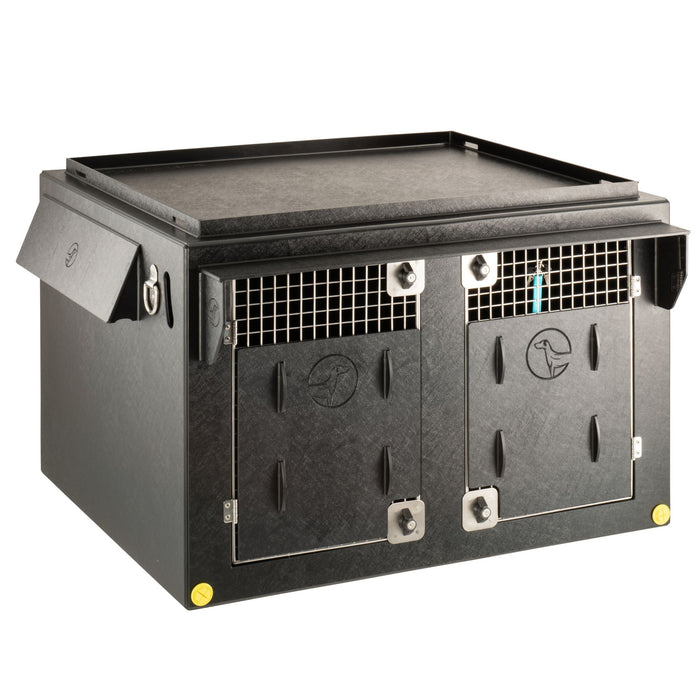 FREE DELIVERY UK Mainland & Ireland*
Dog Travel Crate | The DT 1000 All Weather Kit
Original price
£690.00
-
Original price
£800.00

Independently Crash Tested
About the DT 1000 All Weather Kit
The Dog Crate DT 1000 has all the great benefits and features of the  DT 1000 with the addition of the All Weather Kit. It is a great box for pickup trucks with enough room for a large sized dog (e.g. large Labrador) in either compartment or two smaller sized dogs (e.g. smaller Labradors or Spaniels) on each side. It's the perfect choice for transporting your dogs on the truck bed whilst also protecting them from the wind and rain.
This model also features a tray on top for holding all your dogs travel accessories such as leads and toys. The box is made from a super tough lightweight plastic and to make this easy to clean we have included drainage plugs. 
The box is made from a super tough lightweight plastic which makes it easy to lift in and remove from your vehicle meaning you don't have to sacrifice truck bed space when your dogs are not travelling with you. The plastic is anti shatter and very durable making it a very safe box for transporting your dog.
This box has a solid central divide which gives the crate two large compartments. Each of the two compartments fits a large dog such as a large Labrador or two smaller dogs such as two smaller Labradors or Spaniels on either side of the divide. 
Video Review

 Features

Specifications

Size Guide
Lightweight durable anti-shatter frame
Comfortable and safe for transporting your dog
Lockable stainless steel door as standard
Top storage tray
Two drainage plugs
Easily cleaned
Sealed leak-proof bottom protects your boots carpet
Side vent holes
Ergonomically designed easy lift handles
Top rain guard
Two removable front door rain covers
Fixed side vent hole covers
Two strong steel tie-down hooks
Height: 650mm
Width: 1000mm
Depth: 850mm
Dog Size
Contact Us
If you have any further queries you can contact us here.