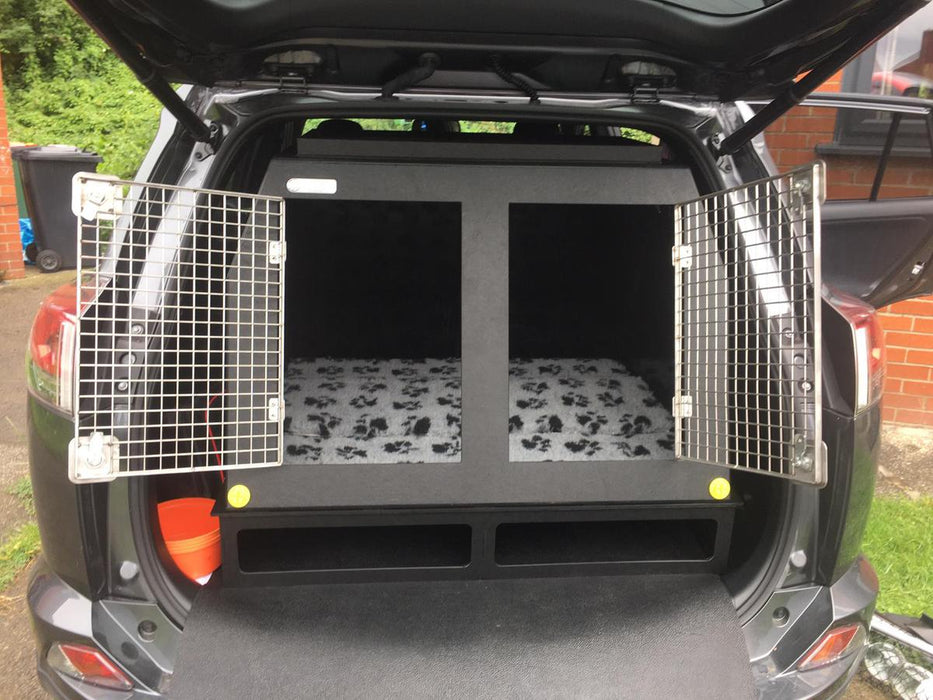 FREE DELIVERY UK Mainland & Ireland*
Toyota RAV4 Hybrid | 2015 - 2019 | Dog Travel Crate | DT 6 with Base
This box is guaranteed to fit the Toyota RAV4 Hybrid 2015-2019
Original price
£640.00
-
Original price
£750.00

Independently Crash Tested
About the DT 6 for the 4th Gen RAV4 Hybrid
This box has been designed to specifically for the Toyota RAV4 Hybrid 2015 - 2019. The boot on this model of RAV4 is smaller than other models so we have added a base to our DT 6 dog car crate to ensure it fits this boot perfectly.
The DT 6 is a great box for medium sized Jeeps like the RAV4, with enough room for two big Labradors or similar sized dogs, one on either side of the divide. It comes with a removable divider which frees up more space if you need it for larger dogs.  
All of these boxes are made from a super tough lightweight plastic and to make this easy to clean we have included drainage plugs. This model also features a tray on top for holding all your dogs travel accessories such as leads and toys.
Video Review

Features

Specifications

Size Guide
Independently crash tested
Lightweight durable anti-shatter frame
Comfortable and safe for transporting your dog
Lockable stainless steel door as standard
Removable centre divider
Top storage tray
Two drainage plugs
Easily cleaned
Sealed leak-proof bottom protects your boots carpet
Side vent holes
Ergonomically designed easy lift handles
Height: 640mm
Width: 940mm
Depth: 800mm
Dog Size:

940mm Wide with divider:
940mm Wide with divider removed:
Contact Us
If you have any further queries you can contact us here.